A
Virtual Reality
Volleyball Videogame
Play Volleyball in virtual reality
Highline Volleyball VR have various kind of gameplay adaptable to any preferences, whether you want to play arcade or more competitive and sportive.
You can compare your skills with others thanks to ranking and leaderboards
LATEST NEWS
13 December 2022
We are happy to share that :
The game is compatible with KAT VR C2 Treadmill
The game supports Oculus Quest 2 via Airlink/link and Virtual Desktop
There will be an exceptional discount for christmas, so this will be the best time to buy the early access for the next year to come.
The first price increase of the early access is expected in January
Feature
A variety of gameplays
The game features the different match rules. 2 VS 2, 4 VS 4 and 6 VS 6 playable in Arcade mode or Simulation mode.
A free tour game mode allows you to have some interactions with the environments like for example at Sunny Beach going at the Disco or taking a seat in the fairy wheel.
4 additional game modes will be revealed progressively throughout the development.
Feature
Different Environments
You can play on the beach or in a huge arena stadium just to cite some examples.
The game features a total of 8 different locations and ambiences, playable at different time of day. (Please note that this may increase over time)
We use spatial audio to improve the overall immersion.
Feature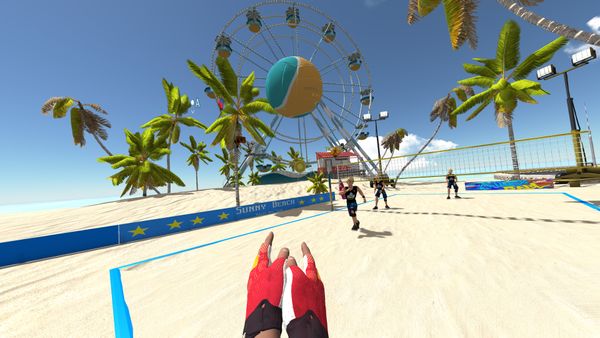 VR GAMEPLAY SPACE
The game has different options like automatic teleportations for playing in seated position. In this configuration you still need an amount of reasonable space without obstacles for moving your arms up and down freely.
You can also deactivate autoteleport and use free movement or real movement for playing at room scale if you have the required space
Please be mindfull that any VR usage still need some precautions like having enough space without obstacles and turning on the guardians.
Key Features
Train specific moves during training sessions.

We have designed the game with virtual reality in mind and the various assistances like automatic teleports for example will enable you to play volleyball comfortably in any kind of play area.

From seated to standing position or for real if you have the space of a real volleyball court!

6 differents environments playable at any time of day with a colorfull and contrasted ambiances inspired from the 90's, with modern graphics.

If you want to take a break you can go for a walk within the environments and do some extra activities with some of them like taking a seat in the fairy wheel of sunny beach and contemplating the sea.
Early Access
Why Early Access?
The early access enable you to purchase the game on Steam while it is still in development.
Despite being in early access we aim that the game is equivalent to a release quality on gameplay for each updates.
We are also able to gather precious feedbacks from the players to improve the game.
Being a very small team, but leaded by a senior from the game industry, Highline Volleyball VR is also a self published game so Early access is a way for helping us to produce the content of the full game more quickly by hiring additional talents.
Once the main features are done, depending on the amount of sales of the Early Access we may add a multiplayer mode to the game.
Early Access Features
AUTOMATIC TELEPORTS AND FREE MOVEMENT

2 VS 2 MATCH SINGLE PLAYER WITH BOTS

TUTORIAL

SUNNY BEACH RESORT ENVIRONMENT

PARIS ARENA STADIUM ENVIRONMENT

SIX COCONUTS ISLAND ENVIRONMENT

EDEN ROCK ENVIRONMENT

LA MARINA ENVIRONMENT

TOURNAMENTS WITH ONLINE RANKING AND LEADERBOARDS

ALICE CHARACTER

JOE CHARACTER

4 VR HANDS SKIN (Male/Female)

3 BALL SKINS

FREETOUR FOR SUNNY BEACH
Early Access Advantages For US AND FOR YOU
You get around 50% discount over the full price.
We will increase the price in successive steps when updates are delivered like described below in the schedule.
You can already play a very nice volleyball game without waiting for launch, and you will see it grow over time. Also it is a unique time where a developer can take into consideration feedbacks from the players.
For us, if the game is successfull enough we may consider adding multiplayer game mode in addition to the single player mode in the last update, so please definitely support us.
Early Access Development Schedule
Please be aware that modifications to this schedule may happen and theses are the main important additions to be considered for it.
Along side each updates comes numours smaller minor updates bringing new functionalities as well and some improvements directly asked from some players on our Discord.
---
WE ARE CURRENTLY WORKING ON UPDATE 3
Update 1
Environment 4 : Eden Rock
+
Alice Character
(Released)
Update 2
Environment 5 : La Marina
Tournaments
Ranked leaderboards
(Released)
Update 3
Training game mode
10% PRICE INCREASE